$27.97
$49.99
saving
$22.02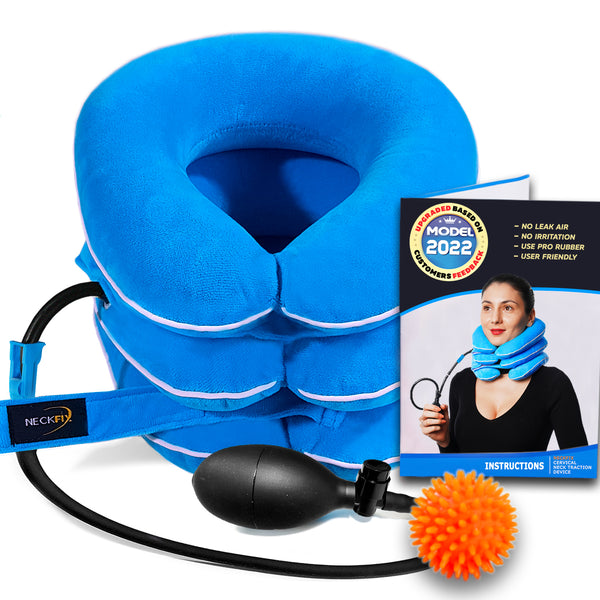 THE POWER OF TRACTION COMES TO YOU
This device gently stretches your muscles and decompress your spine to help reduce neck pain over time. NeckFix helps for:

❖ Relieve muscle tension
❖ Relieve Headaches, Stiffness, and Dizziness
❖ Pinched nerves
❖ Neck Strains
❖ Bulging or herniated disks
❖ Cervical spondylosis
❖ Promote joint nutrition and flexibility
✅ RECOMMENDED BY CHIROPRACTORS: If you have Neck Pain, Shoulder Pain, Headache, Stiffness or Dizziness then our NeckFix device is for you!
✅ THE BEST NECK PAIN RELIEF DEVICE! According to anatomical landmarks, our spine alignment tool/traction unit offers the best relief for neck pain, due to its unique specific curves. This adjustable spinal traction decompressor maintains proper neck posture allowing it to heal. It prevents neck injury and pain. For those suffering from back and spinal decompression, the product helps as home therapy.
✅ OUR PACK INCLUDE: Cervical Neck Traction Device, Trigger Point Massage Ball, Carry Zipper Bag, e-Book, Access to : 10 Video Daily Exercises from Dr.Fix, Assistance provided by Dr.Fix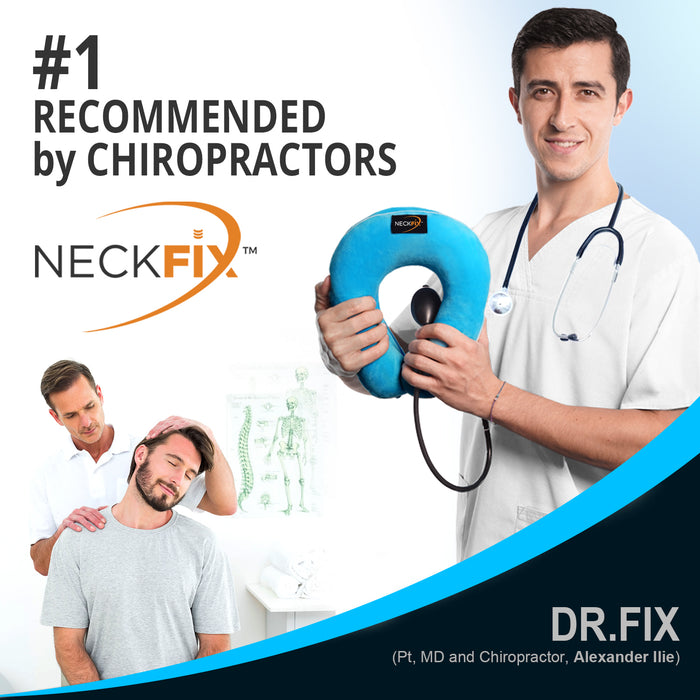 SIMPLE AND SAFE TO USE
Put the NeckFix device around your neck, adjusted to your neck size with the velcro straps, and start inflated till your chin and head rests on the device and feel a little traction.
MAINTAIN PROPER NECK POSTURE
Allowing it to heal or prevents neck injury and pain. Promoting joint nutrition and flexibility, NeckFix device helps for neck, head and back stiffness, discomfort, fatigue and stress.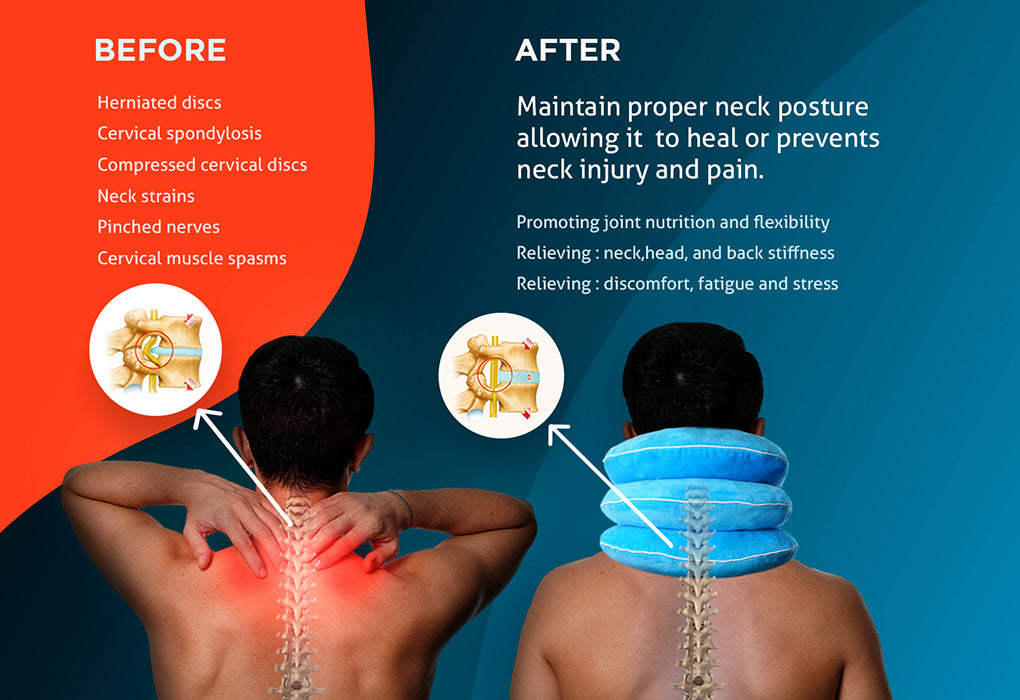 Unique Design

NeckFix Cervical Traction Device, characterized by a physiological curve shape, is the solution for better support of the cervical spine owing to prominence under the neck region.

This type of cervical neck traction design can maintain the spine in a neutral posture and allows the joints and muscles to achieve optimal resting states.

NECKFIX CERVICAL TRACTION DEVICE
Offers neck support to prevent and relieve neck and shoulder pain/injuries. It partially unloads the cervical spine and helps support the weight of the head. The benefits of stretching the neck and lifting it upwards are: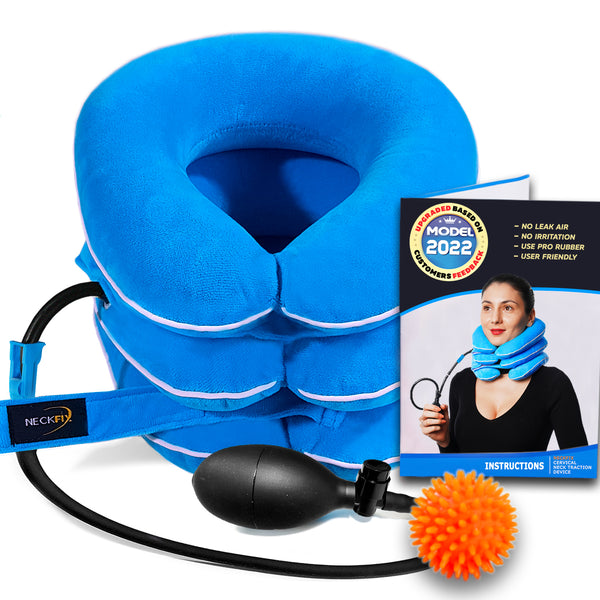 Increase Blood Circulation

Blood circulation gets increased to the structures of the cervical spine.

Helping to Oxygenate Muscles

Helping to oxygenate muscles, nerves and tendons from all the cervical area.

Promoting Relaxation

With just 15 minutes 2 times per day you will feel incredible relaxation of your cervical spine.

Instant Neck Pain Relief

Because the device unloads the cervical spine and helps support the weight of the head you will feel an instant neck pain relief.

MORE INFO ABOUT NECKFIX DEVICE
WE LOVE OUR COMMUNITY
I have suffered from chronic neck/shoulder pain on my right side for decades. The pain and tightness is always there and some days it is so bad I can hardly stand it. After reading reviews, I ordered this device and hoped for some relief. I have been using it for 4 days now and I cannot recommend it enough! The very first use brought me instant relief and I use it twice daily as directed in the package for 15-20 minutes each time. I look forward to putting it on. It feels great while it's on my neck and my pain has been greatly reduced by using this device regularly. It is super easy to use also. They included a small rubber massage ball that has spikes on it as a freebie. I have also been getting relief from using the free massage ball they included. Don't hesitate to pull the trigger on this. I wish I had found it years ago!
I bought this because my neck muscles are tight and painful almost all the time. I was surprised that something as simple as this was as effective as it was. When I'm tense, I tend to scrunch my shoulders up which just adds to the stiffness. This makes you keep your shoulders down. It feels like the weight of your head is off your neck so your neck can just be relaxed. It actually helped me go to sleep faster because those normally tense muscles were relaxed. I am so glad I bought it!
I've spent half my life dealing with terrible, chronic neck pain, and had little luck with getting relief. After a particularly frustrating period of really bad muscle tension, I ended up doing some searching, and found this. Sure, there are similar devices on Amazon, but this one seems to be well made, and you can't beat the price! I've used it several times since I got it, and it's so comfortable I almost fall asleep! I'd expected the material to be rubbery for some reason, but it's really soft and comfortable, which is fantastic. It provides immediate relief from neck pain, and I found that it has even helped my TMJ a lot. I make it a point to use it for 15 minutes or so, a couple of times a day, and it's awesome. Highly recommended!
I have severe neck pain and this has helped. I've only used it three days but I have diminished pain and more movement in my neck. I tend to hold reviews for at least a month to be sure the product holds up but this has been so helpful right from day one. If need be I will come back and update review but as of now -- A+++
I've has c-4 & c-5 fused then a second surgery a year later to clean up bone spurs and ever since had pain when trying to look up much over level ! Now using this device it helps me doing neck exercise and i use it 2X a day laying on me back & I have gained about 10 degree rise looking up in just a few weeks ! I'll update results next month !
If you have arthritis in your neck or like me with an added bonus of degenerative disc disease this is perfect. This does what the chiropractor does only cheaper and in your own home. The more it inflates the higher your neck lifts up. This is designed to lift your vertabrae up away from your discs and give them room to go back in place. When the chiropractor pulls on your neck that's what he's doing. Everyone needs one of these. Even if you don't have a bad back or neck, eventually we all suffer from aging bones. It's wrapped in a soft microfiber type fabric so no matter how tight it gets you won't get scratched from it like you do on some. This will also help if you have headaches due to a slip or bulging disc. This will help with that. So I HIGHLY recommend this. No one should be without one of these.
$27.97
$49.99
saving
$22.02