NeckFix Neck Pillows for Pain Relief Sleeping – Advanced Memory Foam Pillows for Side, Back, Stomach Sleepers – Ergonomically Designed Cervical Orthopedic Pillow – Adjustable Design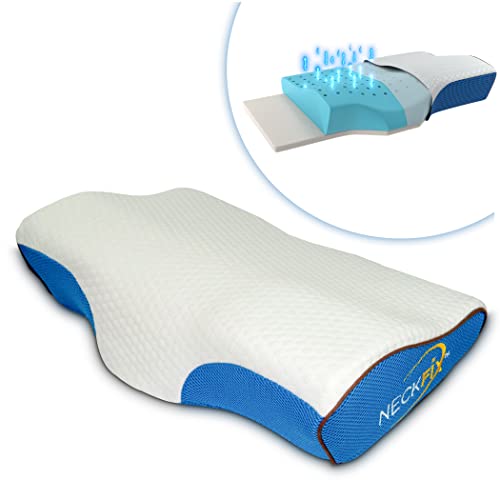 NeckFix Neck Pillows for Pain Relief Sleeping – Advanced Memory Foam Pillows for Side, Back, Stomach Sleepers – Ergonomically Designed Cervical Orthopedic Pillow – Adjustable Design
Color: Blue
Features:
✅ Optimal Solution: The NeckFix pillows for neck pain is a great way to improve your sleeping patterns and posture during the night. Designed for side, stomach, and back sleepers, this neck support pillow is a simple accessory that can have a great impact in your life.
✅ Excellent Materials: The amazing pillow for neck pain is made of soft polyurethane non-temperature sensitive memory foam that provides proper support for your neck, head, and shoulders. The pillow is OEKO-TEX certified and has 110 holes for continuous ventilation.
✅ More Comfort: This orthopedic pillow has a premium ice cooling gel that keeps you dry and avoids sweating during the night. Additionally, the ergonomic design helps to maintain the cervical curvature of your spine, improving your posture and helping you to prevent neck and shoulder stiffness and pain through its ergonomic shape that perfectly fits the curve of your neck.
✅ Completely Adjustable: What makes our neck pillows for sleeping stand out is the 2cm support at the base that can be easily removed for a customized sleeping experience. It allows you to mold the pillow to your height and body constitution for a better night. Additionally, its Contoured shape promotes proper alignment relieving neck and back discomfort rejuvenating your body as you sleep. This cervical pillow is suitable for all posture sleepers
✅ Easy Maintenance: Our ergonomic pillow comes with a super-soft and cozy fiber polyester cover that is easy to remove and wash as often as needed. Additionally, the sleeping pillow is skin-friendly and lightweight, as well as breathable. This orthopedic neck pillow is suitable for different people, such as the elderly, office workers, students and all age's people, which makes it a lovely gift for your family and friends.
Details: The NeckFix orthopedic pillows for neck pain are a must-have for a restful night. With an ergonomic design that provides support for your upper body, this contour memory foam pillow is a great way to improve your posture and relieve pressure and pain accumulated in the shoulders and neck. The pillow for side sleepers with neck and shoulder pain has an adjustable height that can accommodate for differences in body constitution. What makes this product special? The amazing comfortable pillows for sleeping are made with soft memory foam, featuring ice cooling gel for an anti-sweat and temperature-regulating effect. The soft cover is lightweight and very breathable, providing the comfort you need during the night. Some features to keep in mind about our product: Premium memory foam pillows side sleeper, back sleeper, stomach sleeper; Size: 24 x 13.7 x 5.1 inch; Adjustable height; Soft memory foam with 110 ventilation holes; Ice cooling gel; Ergonomic design; Skin-friendly and lightweight cover; OEKO-TEX certified; Detachable and washable fiber pillowcase; Prevents sweat and overheating; Cervical orthopedic design. Improve the quality of your sleep with our premium memory foam pillow for neck pain!
UPC: 782860476866
EAN: 0782860476866